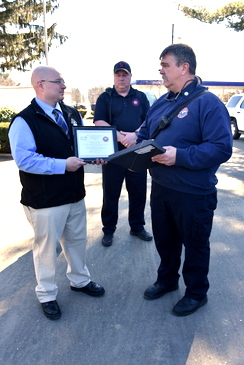 The life-saving efforts of a Calvary Cemetery groundskeeper were recognized by the South Portland Fire Department during a ceremony held at the cemetery on Tuesday, February 27.  Members of the fire department presented Ralph Conant with a Community Service Recognition commendation for coming to the rescue of a man who had fallen from his wheelchair on a frigid January day.
"His actions definitely made a huge difference. It's the smallest things sometimes that make the biggest difference, and we wanted to recognize that," said Captain Christopher Copp, who presented the award.
On January 2, Conant was driving through the cemetery late in the afternoon when he spotted something amiss behind the maintenance garage.  Not sure what it was, he went to investigate and discovered that a man had fallen from his wheelchair, which had become stuck on the ice and snow.  The man had cuts on his arms and appeared to have been struggling for some time.
"He had gotten off to try to free himself and, then, actually fell down in the snow, and trying to get up, most of his clothing had gotten soaked in the snow, and he was well on his way to hypothermia. We were probably about 45 minutes away from dark, so if Ralph hadn't noticed him and called us, the gentleman never would have made it through the night. He would have frozen to death that night. It was single digits that night," explained Captain Copp.
Conant said he first tried to lift the man himself, but when he was unable to do so, he called for assistance, and the fire department quickly responded.
Capt. Copp said the fire department wanted to recognize Conant because it is important that citizens step in to help.
"We love it when people get involved and make our job easier, so we just wanted to say thank you and make sure everybody knew what he did," said Capt. Copp.
Conant said he is surprised by all the attention he has received and that he just did what anyone else would have done.
"I'm honored," he said. "I was not expecting anything remotely close to this. I wasn't expecting anything."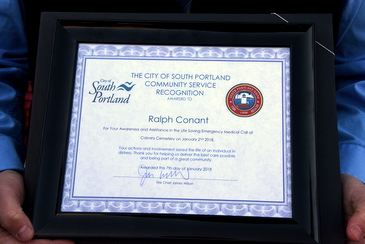 Several family members attended the awards ceremony, but Conant said he also wished his mother, who has passed away, could have also been there, because it was her example that he was following.
"My mom would be proud. I know that. She raised me to always be there for others and to help others," he said.
The Community Service Recognition presented to Conant reads "Your actions and involvement saved the life of an individual in distress. Thank you for helping us deliver the best care possible and being part of a great community."