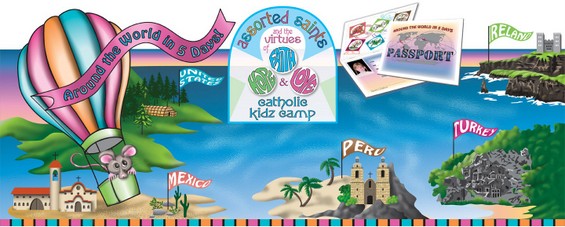 Campers, Hurry to the Launchpad! Take a journey Around the World in 5 Days!
Our hot air balloon takes flight to visit five amazing saints in five countries.  During this Vacation Bible School, you will receive your very own passport and earn your pilot's certificate!  You will learn about how these saints put their FAITH, HOPE, and LOVE into action.  Join us for Bible stories, creative crafts, uplifting music & movement, scrumptious snacks, and games.
The VBS will be held July 24 - 28, 9 a.m. - 12:15 p.m., at St. Jude Church, 134 Main Street in Freeport. The cost is $35/child.  It is open to children entering grades K-5 in the fall.
Registration form at www.pothe.org/ or at the parish's four churches.  FMI: 207-553-7042.