WATERVILLE---"Remember what we heard in today's Gospel, Jesus did not come to be served, but to serve. Let us live that way."
The words of Bishop Robert P. Deeley were met with looks of agreement and understanding from the student body at Mount Merici Academy in Waterville.
The bishop celebrated a schoolwide Mass as part of a visit to the academy on Wednesday, February 28 (additional pictures below).
During the celebration, Bishop Deeley asked questions of the students as he talked about the meaning of Lent.
"Why am I wearing purple today?" asked the bishop.
"It's Lent!" yelled several students.
"That's right. Purple is the color of penance. During Lent, we think about the things we can change to be the person God wants us to be," said the bishop. "We try to spend time thinking about how much God loves us and all the gifts that we have like this school and our families who love and support us. God has been good to us so we have to seek ways to serve others."
Serving others is commonplace at the academy, where students wear a Serviam Shield on their uniforms, meaning "I will serve."
On Wednesday, the bishop was able to observe some of that service firsthand.
"Each week, our seventh and eighth graders rotate through four service locations," said Victoria Duguay, principal of Mount Merici. "They either go to the Waterville Food Bank; Sacred Heart Soup Kitchen; the Muskie Center, which promotes the health and engagement of seniors and disabled adults; or stay here at the school to do things like cleaning or reading to the younger students."
After Mass, Bishop Deeley joined the student group that was working at the nearby food bank. Students assembled meal kits and organized canned goods for the hundreds of community members who turn to the organization for assistance each week.
"Why are you doing this?" the bishop quizzed the students.
"Because we are helping people that need it. That feels good," answered an eighth grader.
The bishop also visited the classrooms at Mount Merici, speaking to the students and fielding a variety of questions, some of which caught teachers and the bishop by surprise due to their depth.
"How do you stay faithful when everything is so bad?" asked one fourth grader.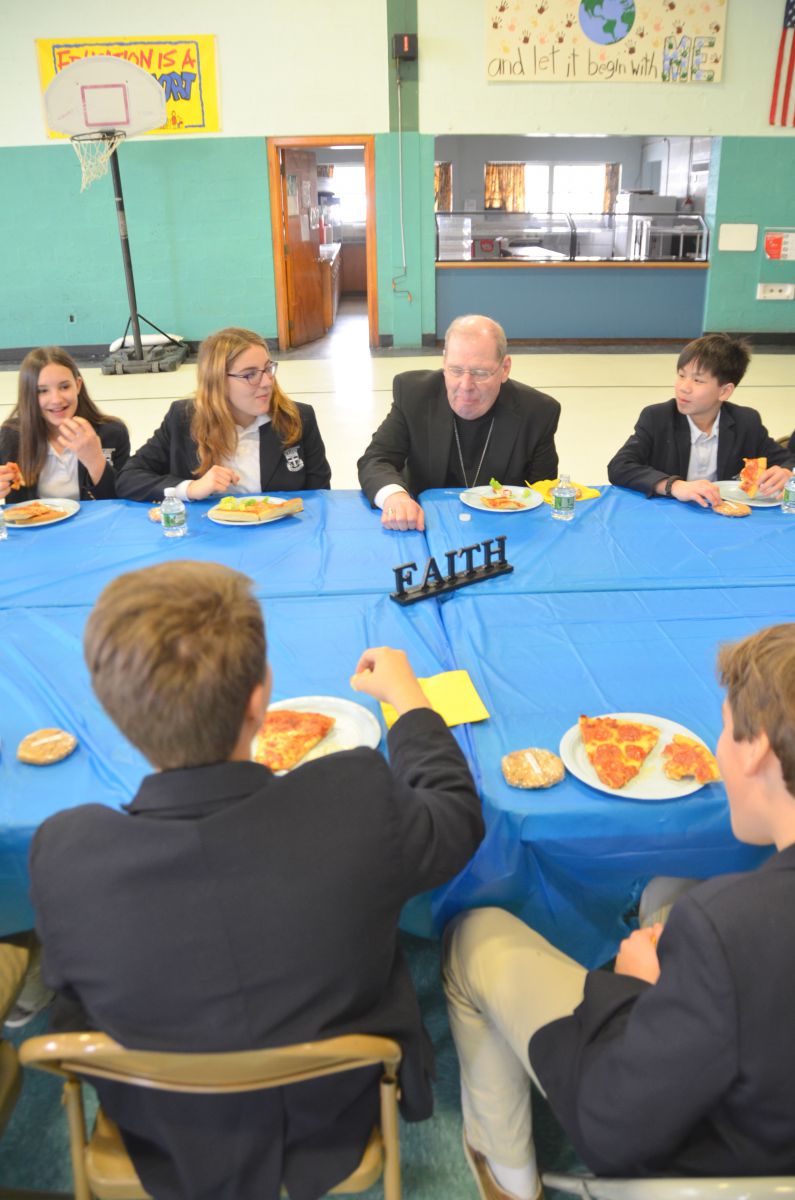 "Well, when Mother Teresa would be asked from time to time what she thought she was accomplishing by feeding just one person. She said, 'I'm doing what I can do.' I think that's important, that we each do what we can do. Then, we are making the world a better place. Other people will see you and they might help, and that will change the things that you think are bad. The Gospel is a message of hope. God is watching over us and caring for us."
On a lighter note, another student asked the bishop if he had his choice, would he stay in Maine or become the Pope?
"Stay here!" said the bishop. "I'd stay right here in Maine. I love it. Do you think Pope Francis gets to go out and visit the schools? I love it here!"
Before leaving, Bishop Deeley had lunch with some of the seventh and eighth graders and asked them what they thought of their experiences at the academy.
"I love the classes and how everyone treats each other," said a student.
"That's wonderful," responded the bishop. "Catholic schools develop the whole person with values who can deal with the world. That's a great gift."